Members of the Board
Bianca Harper
Phantom
Regular Members
Anacronico
Anjana
Beatrice
Cat Morgan
Gabriel Harding
Irina Radetzsky
Isolde Silverleaf
Lucy Bartlett
Margaret Loughton
Nailah
Shadow
Tessa Kind
Vincent Reyes
The Cradle of Legends Novel
The Cradle of Legends Story Boards
The Cradle of Legends Planning
Create a Character for The Cradle of Legends
Add Your Existing Character to The Cradle of Legends
Add this Novel to your Read List
Give this novel a Panda Award?


Remove Your Existing Character from The Cradle of Legends


Novel Awards: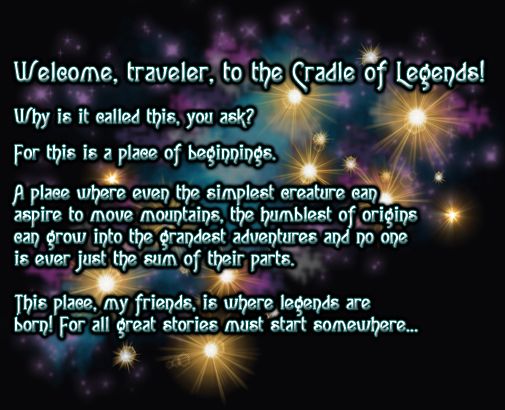 Cradle of Legends is an anthology of stories. Each one is set in a different time, place or even world and do not overlap. By clicking any of the images above, you can go to a description of that story.

Some of the stories in the novel are being written privately or with limited cast, so it's best to inquire with a MoB before submitting an application as a novel may not be currently accepting applications. Even in these cases, we may be able to fit you in if you're interested so please inquire.

This novel is rated R for adult situations, language, violence. Please be aware of this before reading AND when posting, so as not to exceed the rating limit. When in doubt, ask a MoB.

Please read the Novel Guidelines before applying.


---
The Cradle of Legends's date today is:Apr 14th 2014AD
---
Further Information:
This Novel was Created on: 2014-04-19
If you haven't created a character for this novel, you will only be able to read the novel. You must be contributing character before you can add to the story