My Awards:
My Badges:

Muse

Achievement

Service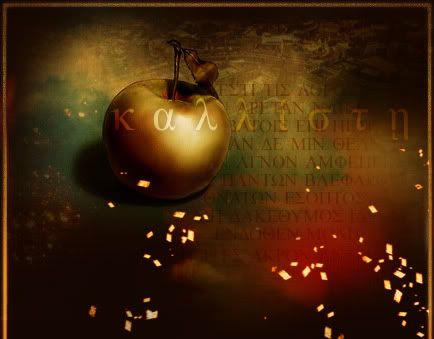 Locrian Virgin: A position in the priesthood of Athena in Troy filled by four maidens of good birth. Their primary duty is to care for the Palladium, the wooden statue of Pallas in Athena's sanctuary, and to aid the High Priestess in matters of sacrifice. Servitude in this role lasts seven years, and girls from ages 13-16 are selected.
Twelve sons had Zeus bestowed Antenor of Troy, and his fierce Thracian princess of a wife, Theano. Twelve sons - and what to do with them all? What Antenor desired most was a daughter, a girl-child in his own image. In the bitter chill of midwinter, he watched as Theano, versed in the ancient magic of her people, sacrificed a pure white goat to Aphrodite so that her husband's only desire might be granted. Vivid blood ran upon the white snow that blanketed the altar. Antenor's breath caught in his throat: he could not say the hymn to invoke the Goddess. An otherwordly sweat crept over him, and when his mouth began to speak, he could not remember the words. Daughter of Zeus! he shouted, tears frozen in his eyes. Give me a daughter as white as this snow, and as red as this blood. Theano's stony eyes darted at him in fury, and she dropped the sacrificial blade. Fool! she cried, for it was too late. Aphrodite had turned her ear to the death-throes of the goat, and had heard the prayer of Antenor.

The next year, a girl was born, with skin like sleet, and a tiny mouth, red as blood. Antenor at last had his daughter, his little Aphrodite. Ay, fairer than Aphrodite! he would say, delighted with his child, and his wife would chide him angrily - for she knew how quick the vain gods were to take offense. But Antenor did not fear them; why, had he not called his daughter a-deia: 'without-fear'?

The child grew up as beautiful as a goddess, and, ay, as petulant as one too. Her brothers, blessed with good-natured patience, bore her whims graciously - all loved Adeia. Antenor, the wisest of Troy's elders, and Priam's most trusted, no longer cared for matters of state; his daughter was all states, and all countries, and all kings to him. His wife, however, had been promoted to the position of High Priestess of Athena - it was whispered that Theano, not Antenor, wore the sword in that marriage. But as Adeia grew, from a surly child to a petulant beauty, Antenor grew anxious. For women risked their youth, their bodies, and their lives, by entering into the peril of marriage. How many lovely young girls had childbirth carried off into Hades? Theano argued that marriage was the only safe place for a beautiful woman; leave her in the open, and she is like a spring lamb for tempting hungry wolves. But Antenor would not have it: his daughter would remain safe. And so, aged, fifteen, Adeia passed from her father's house into the Temple of Athena, under the watchful eye of Theano. Her mother wished that the spoiled girl had been married to the first beggar on the street, rather than poisoning Athena's sanctum with the wrath of Aphrodite.




My Novels:
The Last Trojan - Out of Print
Zone : History
Zone : Romance
Zone : Action
My Reference:
Gaia's Daughters
My Blog:
My Salons:
My Friends:
Arynthya
Mather of Troy
Lady Isabella
Amyitis of Persia
Cressida of Troy
Epic Lyrist
Sora
Shemeit
Camane
Guenevere
Lysandra Demetriades
Aithne Cornelius
Dinah
Awoserra Aqenenra Apepa
Viola
Elene
Arinna
Diomedes
Victoire de Villeroi
My Favorites:
The Last Trojan - Out of Print
My Pandas:
Best Visions of a Dark Paradise
Jan 22, 2010 01:46 pm
Best Offer
October 2008