My Awards:
My Badges:

br>
A rather small hippo that grows only 6 inches tall.They live in your home. In closets ,under beds,and under or dressers.

They nest with bits of fluff ,old socks and other small bitsy stuff. They come out only at night,foraging for food. House hippos only eat crumbs,bits of crackers, chips and bread, Their fav being penut butter.They even like to play in it just like mud.
Go Check out DesertDwellers Hippo Farm I know she will gift you aswell.
You Are Esmerelda!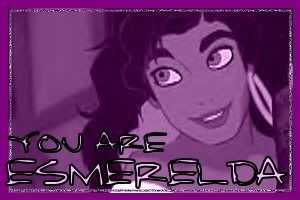 Mysterious and passionate. You are a survivor. Even though life has swung you some difficult situations you have a strong intuition that gets you through. Also, you have the capacity to sympathize and relate to a variety of different people.
Which Disney Princess Are You?
Iago- Sneaky and devious.
You befriend and betray. Get a grip!
Which Shakespeare character are you?