My Awards:
My Badges: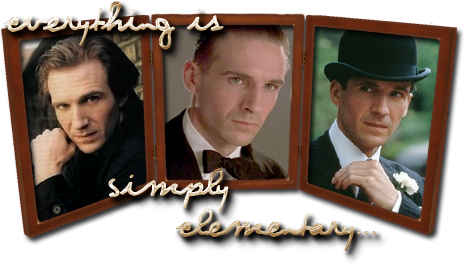 London bores me. Well, everything does, really. Except my work. I am a detective. A real one. Not what those morons at the Yard consider one. But I digress. I suppose so long as they remain plebian, I shall always have work. Though sometimes the backlog of cases runs dry. In my boredom I tend to turn to science and the like to keep from going mad. I think best when there is something to occupy me. I sleep best when heavily sedated. Damn, my mind.

My father has seen my methodology as self destructive and believes it will land me in an early grave. He has threatened to cut me off monetarily should I not submit to his wishes. Thankfully, thus far, he has only foisted a live in physician upon me. An American woman. I suppose he thought a proper British doctor too delicate to withstand my fits. God knows this woman is uncivilized enough to not be off-put. Not for my lack of trying, mind you.

Though I thought she would be a distraction of the highest degree, she has proven to be an asset. She does tend to keep my head on straight and seems to be interested in my work. If anything, she's feeding my habit with her own curiosity. She has no idea. If she ever starts keeping a record of her morphine stores, I'll never hear the end of it.

At any rate, it is a satisfactory arrangement for the time being. At least I can still pursue my work... when she isn't nagging me, that is. Physician, heal thyself! If only shouting that did anything but make her yell louder.


My Novels:
The Diogenes Club - Out of Print
Red Moon
My Reference:
My Blog:
My Salons:
My Friends:
My Favorites:
My Pandas: