Select your genre:
My Awards:
My Badge Collections:



"In Italy for thirty years under the Borgias they had warfare, terror, murder and bloodshed, but they produced Michelangelo, Leonardo da Vinci and the Renaissance. In Switzerland, they had brotherly love; they had five hundred years of democracy and peace and what did they produce? The cuckoo clock."

- Orson Welles.






The Quattrocento was the time of the novus homo, and the Sforza dynasty was proof of how far a man of ignoble birth and more than a little guile could go. Ascanio was born the fourth son of Francesco Sforza, Duke of Milan. His father had started off life as the illegitimate son of a condottiero, Muzio Sforza. Francesco fought alongside his father, and gained a reputation for being able to bend metal bars with his bare hands. Luck had smiled on this common mercenary: he rose to become a great condottiero, and married the daughter of the Duke of Milan, Bianca Maria Visconti. When the Duke died without a male heir, he fought to gain the Duchy of Milan. Within two decades, this bastard son of a nobody was Duke of the second most powerful state in Italy.

The Sforzas were an unexpected success in Milan. Francesco had seven children, all alike in their robust physiques and cunning minds. And how could they not be, with a father whose Herculean strength was rivalled only by the subtlety of his mind, and a mother who had herself donned a suit of armour and fought in battle against the Venetians in Pavia? His sons were a crop of eligible young condottieros; all, apart from the middle child, Ascanio, whose fate it was to enter the church.

It was not for lack of his mother's hard heart and mind, nor for a lack of his father's strength of limb, build and height. He was formed from birth to be a soldier, but he was unlucky to have been born third. He would never become the great condottiero that his elder brothers would.

He was still an adolescent when he was promised the red hat by Guillaume d'Estouteville, who needed his eldest brother Galeazzo's support for his candidacy for the papal throne in 1471. At 29, he was Cardinal, thanks in part to the machinations of one Vice-Chancellor Rodrigo Borgia, who would remain a close ally in the years to come. There would come a time when Borgia would owe everything to Cardinal Ascanio Sforza – including his papal tiara.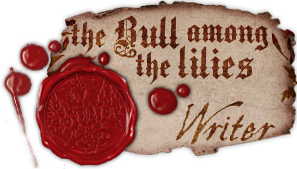 Home design by my dearest niece-in-law, Cecilia.
My Novels:
The Bull Among the Lilies
My Reference Books:
My Blog:
My Salons:
My Friends:
Lucrezia Borgia
Clarice de Medici
Isabetta Orsini
Cecilia Gallerani
My Favorite Reads:
My Pandas: