Select your genre:
My Awards:
My Badge Collections:
In the Twilight - Eternity Novel: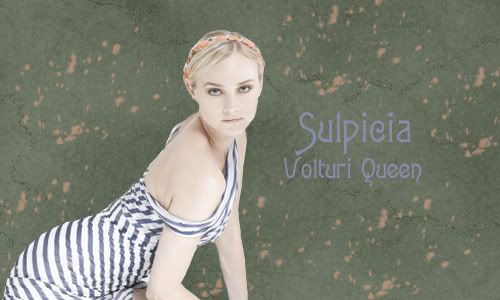 God made women beautiful. The Devil made them clever.

Ciao, humans! I see you have managed to find yourself within the impenetrable walls of our Volterra. I suppose I can give you a little insight on your short visit. I am Sulpicia, the wife of Aro, leader of the Volturi coven. We are very much a family endeavour: my cousin Athenadora married Caius the Angry and Marcus is (was?) Aro's phlegmatic brother in law.





Shocking, I know. But we only speak directly every few decades.


We Five are the original core of the coven but are protected by more than a dozen vampires called the Guard. Aro is an avid collector of unique talents, so most of the members reflect this; My husband himself can see a lifetime with a touch, Jane and Alec cause pain and kill sensory perception, Chelsea can manipulate emotional ties, Renata can act as a shield, and Alessandra practices telekineses to give a few. Others, like Felix and Santiago, act like more traditional body guards, who Aro uses for his 'dirty' work and recruiting new talent. They also offer companionship upon request.





Much better. I see them much more often.


Is that the clock tower chiming? It seems your tour is nearing its end…and I'm becoming thirsty. Grazie for the visit and arrivederci!

Graphics and home done by Alice Cullen)
My Novels:
Twilight - Eternity
Zone : Fantasy
My Reference Books:
My Blog:
My Salons:
Alea Iacta Est
My Friends:
Alessandra de Sismondi
Aro Volturi
Dr Carlisle Cullen
Renata Volturi
Athenodora Volturi
My Favorite Reads:
My Pandas:
2018 Sulpicia Post of the Year
Jun 29, 2018 03:08 pm
Cute and yet Funny. *S*
Oct 09, 2015 10:19 pm
Great Post!
Mar 14, 2013 01:48 am
While this is only Sully's first post, I thought it was one of the best written
Jul 05, 2011 02:45 pm