Select your genre:
My Awards:
My Badge Collections:


Welcome To Akilina's Homepage.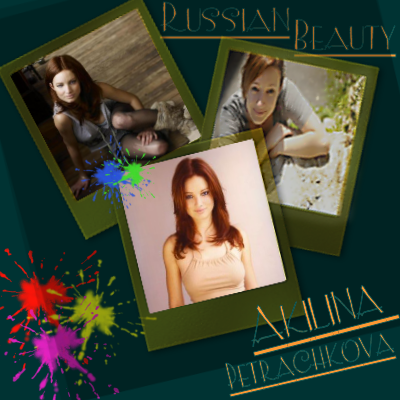 Seventeen year old Akilina Petrachkova is a funny and outgoing young girl. She however has run into her fair share of problems. When her parents divorce she was sent to live with her father, who was never around, after her mother decided remarry but kept her younger brother Yuri. Hurt that her mother no longer seemed to want her around, it wasn't long before she began acting out to get her father's attention.

Her father not knowing what else to do sent her to live with her aunt Svetlana, her husband Fallon along with her two cousins Madison and Willow. She has only met her cousins a few times but has always had a special bond with her aunt. Svetlana wasn't there for much of her growing up she left Russia for America and married when Akilina was only five, but they talked often so Akilina isn't to sad about leaving and joining her aunt.

Akilina is a good girl, she is a painter and has a passion for the arts as a whole. Normally she's wearing clothes with paint smeared on them and herself. She has a tattoo hidden behind her neck as result of her rebellious stage. Her first language is Russian but she speaks fluent English although her accent can make it hard to understand her at times.



Don't see me online? Leave me a message or a gram :)





*Thanks Becky for helping with my home!






My Novels:
My Reference Books:
My Blog:
My Salons:
My Friends:
Leah S Clearwater
My Favorite Reads:
My Pandas: