Background:
Maybe I should introduce myself, I'm Her Royal Highness Princess Ileana of Romania and Princess of Hohenzollern. I was the fifth child in the marriage between Prince Ferdinand "Nando" of Hohenzollern-Sigmaringen and his wife Princess Marie "Missy" of Saxe-Coburg and Gotha. Which makes me realted to the Russian, English, Portugal and Germany royal families.

Before me my parents had already had four children: Carol (1893), Elisabeth "Lisabetha"(1894), Maria "Mignon" (1900) and Nicholae "Nicky" (1903). After I was born my parents had their last child and third son Mircea (1913). He died sadly of typhoid at the age of 3. It was a hard blow for Mama and even me since I was really close to my baby brother.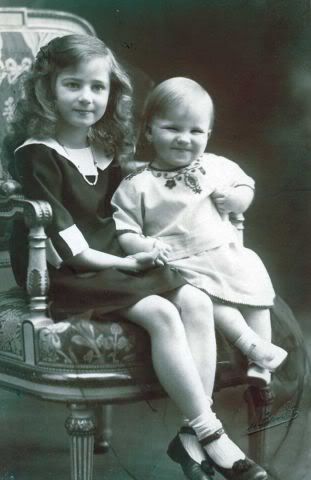 I was born in Bucharest on the 5 January 1909, unlike all my siblings who has been born before me in Siania and Mignon who was born in Gotha, Germany. My childhood was a strict one, travells was not something you could do, if it was not something really important as funeral and family gatherings. According to Papa uncle King Carol I, we children belong to Romania. But we got vistings and we did visisted some familymembers outside the Romania borders. In 1914 Papa uncle King Carol I passed away and Papa found himself to be the king of Romania. He found himself also faceing a World War I. I was just 5 years old when the war broke out and I wanted to help from the begining. I used to visited wounded soilders with Mama and I used to read to them and I even went walking around with my nanny and collected food for the wounded. I was really close to my Mama and would spend more time with her and use to cheer her up and we had a special bond together and she did not have to tell me anything, because I already knew what she was to say. .
In 1921 my brother Carol married Helen "Sitta" of Grecce and Denmark, Carol had already marry Zizi Lambrino in 1918, but that was annulled in 1919 as soon as Mama and Papa found out about it. They had a son toghter who was named Mircea Gregor Carol Lambrino, he was named after my baby brother Mircea. Carol and Helen had also one son, Prince Mihail. My sister Elisabeth was also married to Crown Prince George of Grecce, brother of Helen in 1921. In 1922 Mignon was married to Crown Prince Alexander of Yugoslavia. But also in 1922 Papa and Mama was coronation as King and Queen of Romania.

Eventhought I liked my country with heart and soul and I liked my teachers in Romania, but I felt the need to be educated like every other girl would be able to do, so I was with my Mama and Papa premission send to Heathfield College in Ascot, Great Britian to study art and sculptering. It was a hard time for me and it was often sad times, but I tired to endure it, since I was firm to be taught and get the same chance as everyone else, much of my letters to Mama was filled with heartbroken stories how everyone treated me as a outcast in the school, because of where I came from and that I was royal. I was determined to pass this and with much hard work, I graudated with good grades and a resepect from both students and teachers.

In 1926 Mama toured around in America and she took me and Nicholae with her. It was a long trip and we saw alot of places and Mama really enjoyed her stay and it was a sad good bye when we had to go back home to Romania.

A happy family view dissapeared on the 20 July 1927, when our darling Papa died, a whole nation weeped for him and things started to change at home. During my childhood, lesson was taught by various people, my Papa taught me German and my Mama taugh me French and English, various court members and nannies and governess taught Romanian and I had a teacher to teach me piano and music and dance, but also history and art

font face = Book old style size "3" "italic">
In the The Romanovs - One Last Dance Novel:
Ileana has grow up to a 14th year old girl and she have started to think of who her prince charming is but has been told serval time not to think of it. She wish to see her cousin and relatives more often then she does and she was happy to go on her own to Belgium for the adroble little baby boys baptismen.

font face = Book old style size "3" "italic">

She still have not entierly get over her brother Mircea death and she tries to hide the pain she feels from seeing the whole event taken place. She is glad to see everyone being happy and even she hope to be happy one day with a family of her own. Ileana is the only child at home, now that Nicholae is away on his travels around the world during his naval life and Carol has run away to be with his mistress Magda "Elena" Lupescu. Mama are so upset over whole matter and she is so deeply hurt over it and so is Papa. None of them has really forgive Carol for his marriage to Zizi Lambrino and making her pregant with a son. But on the contray Mignon does seems happy with her husband Alexander "Sandro" and their baby boy Peter in Yugoslavia. Elisabeth seems to have a lot of trobule in her marriage to George and it not making it better that it seems to be a a lot of trobule in Greece and it might be a revoloution. Hopefully order will be restored before it becomes a really big mess.

font face = Book old style size "3" "italic">

Now a days Ileana spends her time in Coburg as a punishment due to the ruckish she and her cousin Maria Kyrillovna has caused and it is here she hears about the news of her cousin Alexei getting married to Elizabeth, Ileana tries to bite together and not show anyone who hurt she is by it and it as been giving her more thoughts of who she is to fall in love with.

font face = Book old style size "3" "italic">