Hello everyone! I am Princess Natalia Pavlovna Paley, but you can feel free to just call me Natalie!
I was born on the 5th of December, 1905 in Paris, France, to Grand Duke Paul Alexandrovich of Russia and his second wife, Princess Olga Valerianovna Paley. This was a morganatic marriage, performed without the permission of Tsar Nicholas II. As a result, my parents were exiled to Paris.
Both my parents had already been married, my father to Princess Alexandra of Greece and Denmark from whom he had two children: Grand Duke Dmitri Pavlovich and Grand Duchess Maria Pavlovna. My mother was married to Erich Gerhard von Pistohlkors from whom she had three cildren (Alexander, Olga and Marianna).
I had a very happy childhood in Paris, along with my brother Vladimir and my sister Irina. We lived in a beautiful house in Boulogne-sur-Seine and used to have all meals with our parents, even though they had a very busy social life! This little detail got us very close to each other! On Sundays we always attended an Orthodox service in a church nearby.
In 1912, Tsar Nicholas forgave my parents for their "crime" and we all moved back to Russia, to a palace in Tsarkoe Selo, just opposite the great Vladimirovich Palace. It was a dramatic change! While our old household only needed 16 servants, this one needed 64!
An entire new family was presented to us! First we met all of our half-siblings. By this time, my oldest half-brother was already married to Alexandra Alexandrovna Pistohlkors and had two little girls: Tatiana, born in 1910 and Olga, born in 1912. Latter they would have another daughter, Alexandra. Another half-sister, Maria, had been married to Prince Whilhelm of Sweden to whom she had a little son, Lennart, but the marriage was already over.
We took permanent residence in Russia by the Spring of 1914. Our first three months are among the happiest I've ever lived. But, alas, they didn't take very long. Less than three months after our arrival, Germany declared war on Russia. It was the beginning of World War One.
My brother Vladimir immediately joined the war effort and went away to fight in the trenches. It was the first time that the family was separated. My father wanted to join the army badly, but his health was rapidly declining and he was advised not to do so. Obviously medical advises were never something Grand Duke Paul Alexandrovich took seriously enough and, after a patriotic request to his nephew, the Tsar, he was given a regiment and went away. Meanwhile our ballroom was transformed into one of the many workshops sponsored by the Empress. My mother worked day and night to make sure everything was cared for.
Then 1917 came and everything changed. I was too young to understand what the Revolution really meant and my short years in Russia did not let me understand how deep the desperation of the people was. I didn't see anything. The only difference from my old life was that papa and Vladimir were back home.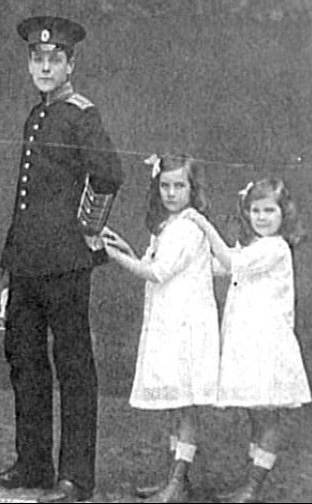 But the quiet days would soon be over. In October another revolution came, one that came to mean the end of our childhood. Our palace was one of the last to be visited by the Bolsheviks, but that didn't make it easier for us. The rooms were carefully searched and much of their values confiscated by the guards for no good reason. My mother wanted to fight the injustice, to regain what was hers by right, but my father never allowed her to give them any justification to hurt the family further. He always quiet, calm, hopefully waiting for the return of his much valued peace.
Shortly after, my brother Vladimir was exiled for no good reason. When he left us in April 1918 I could never have guessed that it would be the last time I would ever see him. He was killed along with other cousins and Grand Duchess Elizabeth Feodorovna. The news came months latter when their bodies were found by the White Army.
My father would not be spared of the horrors of revolution either. Although he was sick, he was arrested and would also be killed in January 1919, but me and my sister didn't know it until much later. We were told his sickness had killed him, which comforted us at the time.
After all this tribulations, my sister, mother and I lived in Sweden for two years before it became too expensive. Then we returned to Paris. Our mother sold our old house and from then on we lived in a small apartment. Just a few months later, Irina married Feodor Alexandrovich and, one year later, they had a son, Mikhail.
It was in Paris that I came to know my future husband, Lucien Lelong in one of the Charity Bazars my mother gave every year. Lelong, perhaps the most famouse stylest of the time in Paris, used to offer some of his creations for these events which he always atended with his wife. Eventualy he asked me to go to his store where everyone said I would make a perfect fashion model.
That would end up being my career. I became the image of the Lelong fashion house and suddenly whole of the Parisian society wanted me in their drawing rooms. Lelong, of course, was the first one to realize how prophitable my image could be and, just a few days after he had divorced his wife, he asked me to marry him in 1927.
I was only 21 at the time and had gone through a terrible experience during our impresionement in Tsarskoe Selo, which had made me feel repulse towards every man and here was this middle-aged rich and well-known man who was known for his homossexual affairs and was offering me a life with no worries and a marriage without intimacy. No one understood why did I take him, but to me it was perfect. After the marriage, Irina and I started to go our separate ways.
For almost a decade, I was one of the most influential figures in the Parisian café society. I was photographed by every major photographer, from Beaton to Horst. My marriage, of course, was a façade. We were living in separate houses and living separated lives.