My Awards:
My Badges:
When one evil is destroyed a new evil must fill its void it is rule one in Tao philosophy. Then again I'm not evil I'm anti-human, more of an agent of change. I was born to Nut and Geb in the darkness of a New Moon as was my brothers and sisters. Grandpa Ra didnít like the idea of being a grandpa just yet; he didnít want to feel old. He accepted us well most of us Osiris looked like mom and dad, and Horus the 1st looked like grandpa. I looked like Gonzo from the Muppets. I was the first to learn how to change my form, but everyone remembers Isisís changes more. Maybe that is why I nailed Osiris in that box, and next time I saw him I chopped him up. Always ignored because Horus was the good one and Osiris was the pretty one. I act out. I do like how I tricked my brother. Told him he can have the box if he can fit in it and he did. He can be gullible. In the history of kings, Isis killed Grandpa Ra via a cobra she made from his spit. Dad opened some box that grandpa left behind that had a snake. The snake burned him badly.
I then killed Osiris by cutting him into so many pieces I forgot to count. Dad thought Horus the 1st should rule instead of me. Isis tricked me into thinking she was my wife and that I would spare her child. I personally liked the idea of Anubis taking over after me. When Horus the 2nd was old, enough he avenged his father. Ra got sick of all this killing and felt the mortals should rule themselves while we have to choose other kingdoms. I chose the storms and the desert because I heard Zeus has fun with that, Osiris chose the fertile land and the underworld but Horus the 1st chose to let Ra and Atum command the Sun with him, and they merged but can separate if need be. For tricking my brother, I had to protect Ra in the underworld. It was an insult to me. Isis got off free. I have to fight a snake every night!
I donít just do storms and fight snakes. I instill change. I am behind the 95 Thesis, The Square Deal, The New Deal, The Fair Deal, The Deal of 2010, the Great Society, New Freedom, New Frontier and the Emancipation Proclamation. I help invent movable type, the light bulbs, digital watches, disco, democracy, gravity, flossing, bagpipes, the harmonica and the telephone. In religion, I played a role in introducing the concept of monotheism (my last coop), nudged Esther to do something good for her people, tempted some Jewish boy from Nazareth, and planted a few thoughts about women and gays in a Saul, prosecuted against a man named Job. Helped develop communism, start the Beatles(love ĎRevolutioní), and get the Marrix boys into the theatrical art of vaudeville. My plan is to cause mayhem wherever I can go and as a member of the 'Know It All Club' replace the humans with a better animal perhaps a duck with thumbs and can play the tuba.
I am change itself.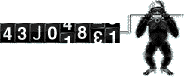 My Novels:
Paranormal - Out of Print
PiRamesses - Out of Print
The Horus Road
My Reference:
My Blog:
My Salons:
My Friends:
My Favorites:
My Pandas: