My Awards:
My Badges: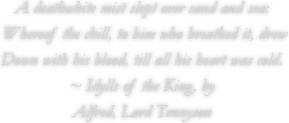 The Lady of the Lake
posesses many names: Nimue,
Vivian, Elaine, Nineve, Saraide.
Fairy, Goddess, Witch, Woman, Fiend.
Such is the fate of a person who has no name
to be given too many. The past of the Lady remains
as elusive as her name. Beyond the mists at Glastonbury,
the priests speak of a mortal woman who bargained her soul
with the horned Devil, in exchange for the folly of eternal
youth. Her own priesthood treat her with the same
wary reverence as one might to a fickle goddess,
ever careful to appease her desires. But the
Lady cares nothing for the thoughts of
others. All her efforts are fixed on
preserving the ways of the Old
People, and ensuring the
survival of Avalon.
My Novels:
Ah! L'amour!
Zone : Romance
My Reference:
My Blog:
My Salons:
My Friends:
My Favorites:
My Pandas: