My Awards:
My Badges:

Behold I am the royal child of His Body. Bow before me as I am also the child of a god. I am HatchepMozeez. In the future I am to be the ruler of all the Red and the Black Lands. I will lead the armies of Kemet. I will send an expedition to the Land of Punt.
But that is to come. Right now I am just a young girl who loves pretty dresses and horses and wishes she had a friend to talk to. I am smart and clever and I am strong and quick. I have been taught to use a bow and a throwing stick. I can drive a chariot and outrace my father. But I think he allows me to win.
I love and admire my father very much. He is the Mighty Bull MhoetMozeez, Lord of the Two Lands, life, health and prosperity to him. He allows me to sit beside him when he delivers his wisdom to his people. I am learning very much from him. I am sure he will make me his heir, his Horus-in-the-nest as my brother is slow and dim witted. But I am a girl and girls are never king, they are only Great Wives and the barer of children. But I will change that. I will be the king. You just wait and see.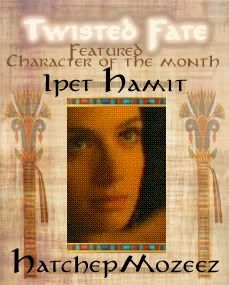 My Novels:
Twisted Fate - Out of Print
My Reference:
My Blog:
My Salons:
My Friends:
Imershatmuchetshu
Monique de Brabant
My Favorites:
An Empire Divided: The Fall of Het-Uart - Out of Print
Amarna - Out of Print
Carpe Noctem
My Pandas: