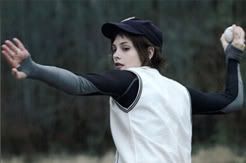 I suppose I should start at the beginning. After all the beginning is always a good way to start isn't it?





I woke up one day as a vampire in 1920. I had no memory of my past, and had no idea who I had been before I became a vampire. Though I knew I must have been someone. I knew my name. Mary Alice Brandon. But that was it. Much later, I found out that I had been place into a institute by my family because of the visions I had or so we thought, and my killer, was James a tracker who nearly killed Bella too. But thatís another story in itself.

So for the first few years as a new born, rather than ravage the country side for food, or humans. I spent most of my time, trying to peace together what little history of mine I could. I also spent this time finding out who I was as a person. I never thought of myself as a monster as most would have. Soon, I realized I had a very strange gift of foreseeing the future. A gift that proved to be insanely useful to a new born vampire. I was able to see that one day I would be happily settled down with a man who loved me more than life itself. And a family. I would have a real family. And be rich, thanks to my visions.




I had decided that I was going to try and co exist with the humans rather than exist without them. I needed money in order to do this, and I had picked up a few odd jobs here and there. Eventually getting a place to live, and clothing. After I became what I liked to call, civilized, I had a vision of meeting Jasper. I didnít meet him until the 1950s but my life was hardly lonely. I had a few friends, humans and vampires. Though I tended to stay away from the humans as much as possible. I found things to keep me busy, like shopping, and throwing parties. I loved to have fun.

In 1952, I meant Jasper at the Mairfair Diner. We spent a few awkward years together, existing in perfect harmony and then eventually realized that we shared a quiet understanding of a love together. We were married by 1955. Between the time I had meant Jasper and married him, I had a vision of Dr. Carlisle Cullen, and of being part of his family. I sought him out, the vision was too good not to have come true and I was warmly welcomed into his family. I took the name Cullen and Jasper, having looked enough like Rosalie to pass as her twin, took her last name.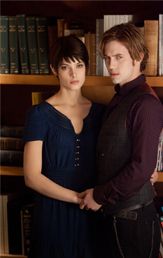 In order to co exist with the humans we jumped from place to place, pretending to be teenagers and going to college and high school. Getting degrees mostly as a doctor so Carlisle could learn the latest in his profession from us. When we appeared to be too old than we looked, we moved. In the first part of the century, we moved back to Forks, which was the one place we really felt was home, and Edward, finally meant Bella. Whom, quickly became my best friend.




Weíve tried to keep a rather low profile here in Forks, so that we can coexist easily with the humans without them finding out what we are. A few weeks ago, Carlisle found an antidote and we all became human. So now, we can really live amongst the humans rather than trying to simply coexist with them. Maybe one day, Jasper and I will even have children and grow old and actually die. The only problem with being human is that I haven't been able to concentrate on my visions the way I used too. I donít know how normal people live without being able to know what was going to happen to them all the time. Its rather annoying! I only hope I will be able to live with this. But for Carlisle, Iíll try.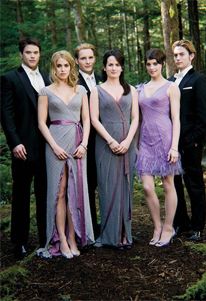 The robbed that smiles, steals something from the thief.
~William Shakespeare, Othello~