My Awards:
My Badges:
In the About Time Novel:
Brian Boroimhe's Dublin Castle
The O'Donovans, Lords of Clann Cahill: Giolla ar n-Namhuid abu!
"Servant of our enemy to victory!"
Motto: Vir super hostem. "A man above an enemy."
(Generous to foes)
I, Brigit O'Donovan from Kincara, am the youngest sister of Eithne O'Donovan, who left home t' aid a distant clan on their quest t' find Brian Boroimhe. Me sister traveled, along with me three brothers, Artgal, Diarmait, and Muirgius, t' The Cashel, this bein' the stronghold of our great leader. Our foster father, Ernan, his son, Ségdae, and a small group of warriors, also left on this adventure. T'was a time of fightin' t' end the raids and feudin' with the Vikin's that drove everyone t' journey so far.

Me mither, Moncha, and I were left t' tend t' our wee farm. T'was not so difficult, for our small community was close and friendly. And as the women in our family have always been known for their healin' ways, we have kept our place secure within our clan.

Now me Mum and I have left our home, brought t' The Cashel t' be with our family once't more. Me sister, Eithne, has wed our protector, Ernan. She havin' just presented him with a baby daughter, Tierney Ryann. Ah! And me brother, Diarmait, with his sweet Vikin' bride, Lille, are the proud parents of baby Aisling. 'Tis a blessed time, now that the great Brian Boru has routed the Vikin's from Dublin.

So much has happened 'tis nearly too much t' find the words for speakin'. And now, ye see, I've lost me heart t' Ségdae! I'd hardly thought on him since I was small, as he used t' tease me just like me brothers. Now as I'm a grown woman, I look upon Se' in a different manner. 'Tis a difficult thing t' say aloud, but me heart knows it true... I love him.

I will follow Ségdae and Muirgius, who will leave for Dublin t' be in command of the castle there. I've a plan for followin' along with them, though none save me knows how it will happen. This is me story... this is me journey now begun...
This is Ségdae, brave and strong.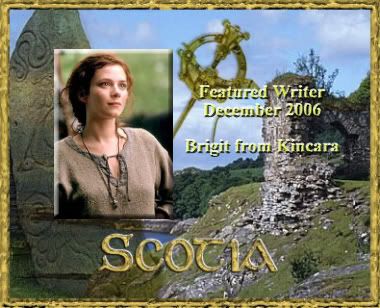 My Novels:
About Time - Out of Print
My Reference:
My Blog:
My Salons:
My Friends:
Cricket Carson
Macha
Breylon
Brian Boru
Cian
Fionnlagh Mac an Rothaich
My Favorites:
My Pandas:
Love Yer writing
Dec 09, 2009 10:33 pm