Welcome to Pan's Community Daily Index. You need to be registered to Pan Historia in order to post.
What the...?
Author: Starwood Nott
Date: 03-16-08 17:32


The limo pulled up to the theater, just as Starwood finished his Bud. The driver opened the door and Starwood slid out of the seat, unceremoniously smashing the brown glass bottle on the sidewalk. He took a moment to smooth his suit and light up a smoke. After a quick drag, he walked through the doors into the theater.

"Wooo! Yeaaaaah!" he cried. "The Nuge! What up?!"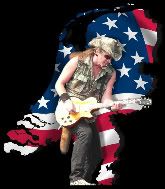 Starwood stopped, looking around at what he thought would be fellow Ted Nugent concert goers, but they didn't look quite dressed for it. Well, there was one dude in a cowboy hat... Starwood lifted up his shades and glanced down at his ticket. He didn't have a ticket to see the Motor City Madman! It was a ticket for some freaking opera. WTF, man?!

No Cat Scratch Fever, no Wango Tango, no Terminus Eldorado, no Wang Dang Sweet Poontang! This was a disaster of greatest magnitude. Now everyone was looking at him.

Starwood glanced over his shoulder just in time to see the limo pulling away. Damn. He didn't know jack about operas except from that one movie with the guy who had played Freddie Kreuger going around as the Phantom of the Opera in quite a good gore fest. He could only hope for something as fun as that, since he wasn't getting The Nuge.

Starwood quickly stalked over to his seat, which happened to be next to a cat. What was this opera anyway? Starwood leaned back and put his feet up on the mezzanine railing and smoked the rest of his cigarette while he perused the program. Just let them try to tell him there was no smoking and someone was gonna pay...

| | | |
| --- | --- | --- |
| Topics | Author | Date |
| Going to the Opera - Get your Tickets here! | Ms Pretentieux Critique | 03-16-08 11:55 |
| Going to the opera - I have my ticket! | Calliope | 03-16-08 12:23 |
| Calliope at the Opera | Ms Pretentieux Critique | 03-16-08 12:58 |
| Opera enthusiast | Salem | 03-16-08 13:01 |
| Going to the opera - I have my Goth couture! | Jerry Cornelius | 03-16-08 14:04 |
| Going to the Opera? Hell YES!!! | Barbie Dahl | 03-16-08 14:23 |
| More Opera Attendees | Ms Pretentieux Critique | 03-16-08 15:08 |
| Recycling Wardrobe | Adrasteia Hatshepsut | 03-16-08 15:40 |
| What the...? | Starwood Nott | 03-16-08 17:32 |
| From Stage to Audience! | Bayley Aylesford | 03-16-08 17:35 |
| RE: Going to the opera - but first, tock stop by garbage can behind hot dog factory, conveniently located next to opera house | tock | 03-16-08 17:45 |
| Keeping the perch | Salem | 03-16-08 19:38 |
| I'll take the Entire Upper Level | Awoserra Aqenenra Apepa | 03-17-08 06:03 |
| "Are you sure about this?" Max asked suspiciously. | joey aristophanes | 03-17-08 08:54 |
| Going to the Opera... | Tank Girl | 03-17-08 09:50 |
| This looks interesting | Bruja | 03-17-08 10:04 |
| The Theatre is filling up, how lovely! | Ms Pretentieux Critique | 03-17-08 11:26 |
| Invitation Accepted | Adrasteia Hatshepsut | 03-17-08 14:29 |
| What's Opera, Doc? | Starwood Nott | 03-17-08 16:34 |
| RE: What's Opera, Dr. Phil? | Tank Girl | 03-17-08 17:08 |
| A Night at the Opera | Alexei Nikolaevich | 03-17-08 20:56 |
| RE: Going to the opera - but first, tock stop by garbage can behind hot dog factory, conveniently located next to opera house | Rada Falenkova | 03-17-08 23:42 |
| The Curtain Rises | Salem | 03-18-08 10:30 |
| Finding my seat | Ms Pretentieux Critique | 03-21-08 00:51 |
| Running in | Alais | 03-21-08 16:56 |
| Box Thirteen | Tank Girl | 03-22-08 06:52 |
| End of Act Once | Alais | 03-22-08 08:51 |
| What the...? (continued) | Starwood Nott | 03-22-08 13:48 |
| Applauding | Ms Pretentieux Critique | 03-24-08 13:04 |
| Musings | Salem | 03-24-08 13:58 |
| UPDATE on the Opera (OOC) | Calliope | 04-06-08 12:23 |
| Opera? Oh yeah! | Calliope | 04-06-08 12:29 |
| RE: Opera? Oh yeah! | Starwood Nott | 04-06-08 14:17 |
| After Vespers, the Show.... | Bayley Aylesford | 04-06-08 17:44 |
| Late night appointment | Alais | 04-06-08 19:11 |
| The Fat Lady, warming up backstage... | Alexei Nikolaevich | 04-09-08 12:47 |
| "Okay, so the people over there..." | skip aristophanes | 04-30-08 17:55 |